Forum home
›
The potting shed
Crockham Hill garden goings on
Jetmorgan
Posts: 79
Good morning everyone. Has there have been other people on here starting threads on their own gardens I thought I'd start one myself. I'm a complete novice gardener and only really started getting into gardening when I moved into my ground floor flat 10 years ago.
I've done odd bits in the garden already but progress is very slow and sporadic as I can't commit very much money to it...only £10-20 a month. So most things have to be very cheap or even better free so a lot of scavenging and skip diving goes on.
Anyway the Easter weekend was a busy one here as I replaced my old raised veg bed with a new one but for bee, butterfly & bird friendly flowers this time and also a wildlife pond.
First pics show the old bed gradually rotting away. Even though this was treated timber it rotted very quickly as I had laid it straight onto the soil. This is heavy clay so it was always wet.
So I dug the old one up and then a trench ready to receive the new one. This trench was filled with lots of coffee/tea mugs that were being chucked out from my workplace and then crushed up to give some drainage but I did add an extra layer of gravel in as well to help get things level.
I had started building the new raised bed at my workplace as then I could do it in the dry and keep things as level and straight as I could. The timber was rescued from a building being demolished next to my workplace and it was roofing joists. They were a bit warped and twisted but beggars can't be choosers and they weren't too bad. It was built in sections that I could take apart and then do final fixing once in place at home.
Then it was just a matter of getting it back home...fixing together the base and side sections first and then building up the sides all the way around.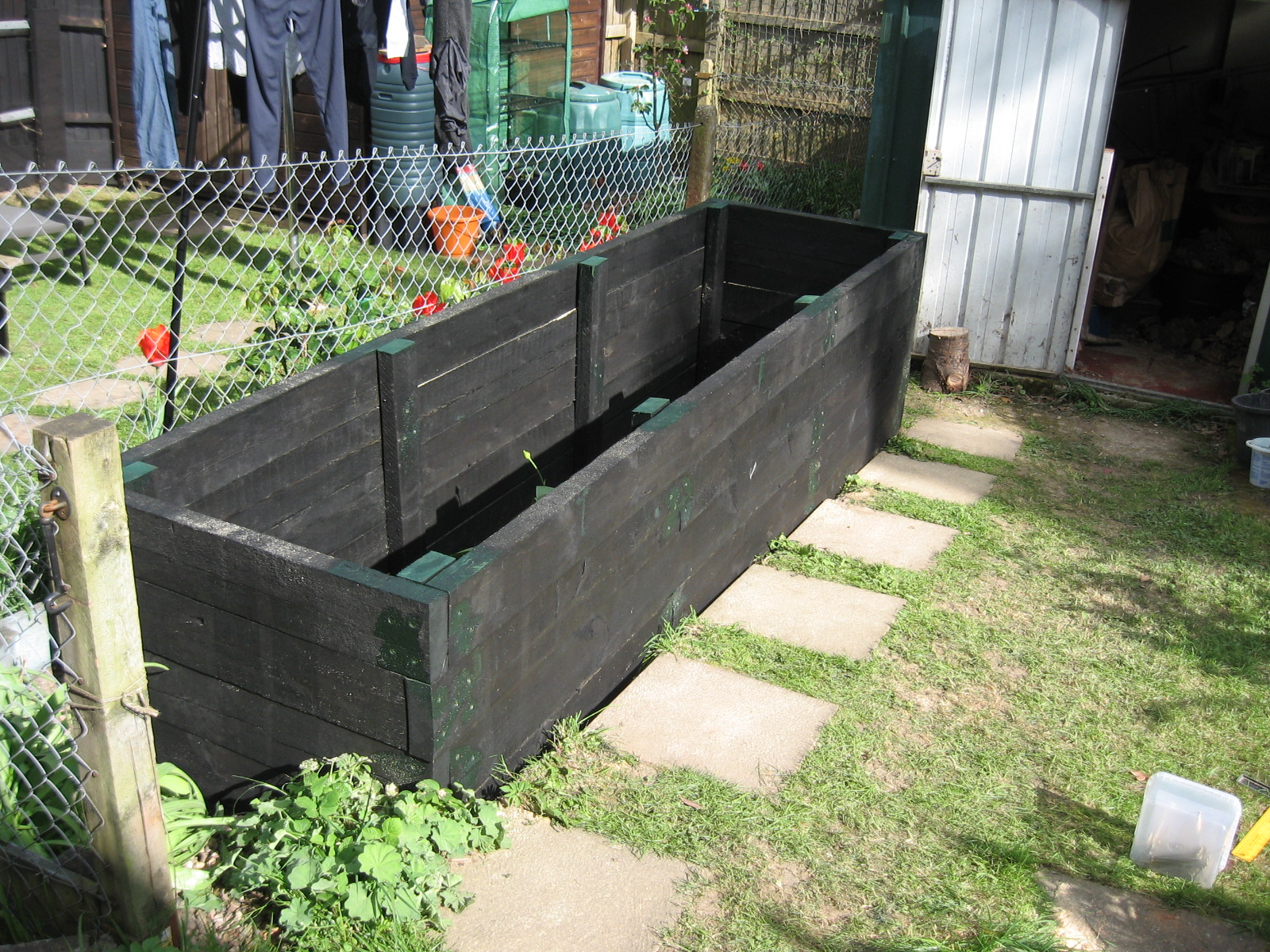 It also got 2 layers of membrane around the inside. This I hope will help stop the timber staying wet and rotting. I'm also going to have a thin layer of gravel between the sides and the soil all the way up to help with drainage as well. All I need to do now is get some gravel boards to make a capping all the way around to make it look tidy. Then it's a matter of filling it up with all the soil I dug out in the first place...which is sitting in the garden shed at the moment.
Also yet to be installed, because it's full of soil at the moment, is the large plastic planter tub which will be the wildlife pond and sit at one end of the bed.
Another job I was able to get finished off was the potting table I bui