Forum home
›
Fruit & veg
Three apple trees, three problems
Stephanie newish gardener
Aberdeenshire/Moray coast
Posts: 419
Hello
We have three apple trees with different problems.  I think one is scab and one might be variable water provision or birds, and the other is as a result of a close shave with a strimmer!
1.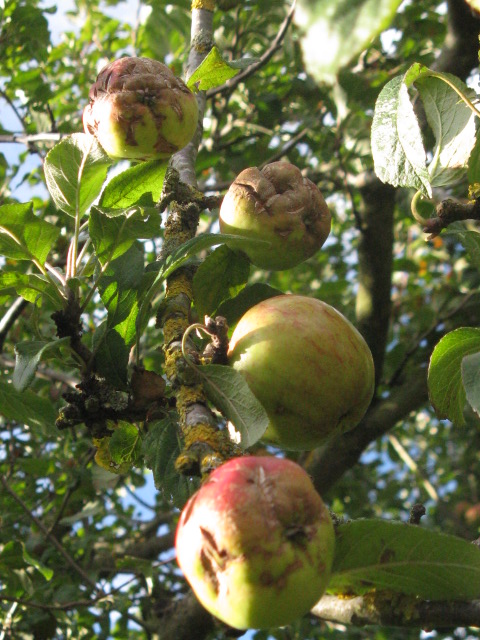 Any ideas what this is?  It sort of looks like the tree has had variable water supply according to some of the pics I've looked at in research, but equally some of the marks look like they could have been made by a bird.
It doesn't affect the whole tree, just one or two branches. The main question is does it need treating and if so how? Also, are the apples ok to use for cider?  We have already pressed a load of them but so far only the unaffected ones.
2. 
I think this is scab. This tree is around 50m from the other one, which doesn't seem to have any similarly affected apples, just the pits as shown above. It obviously needs treating (unless it isn't scab) but can we use the apples for cider, or should we throw/burn them?
3. 
My husband caught this young apple tree with the strimmer and painted the wound with the white stuff you can see (I don't know what it is but he assured me it was the right thing to do). Since then the shoot you can see has sprouted from below the wound.
I'm just looking for thoughts on this one as I will leave the new shoot and hope that the rest of the tree recovers as well, but would appreciate any tips on how to look after it and get it to end up fruiting and looking like a tree at some point.
This tree is probably about 10ish metres from the one that might have scab, and there is another young apple tree nearby too, so should we do something preventative with them?  Neither has fruit yet as they are too young.
Grateful for all ideas - additional info - we are in Aberdeenshire on the Moray coast and had a very wet June and July and the tree in the pics at the top sits in what can be a boggy part of the garden when we have a lot of rain.
Thanks
Stephanie