Forum home
›
Plants
Will my rose wake up?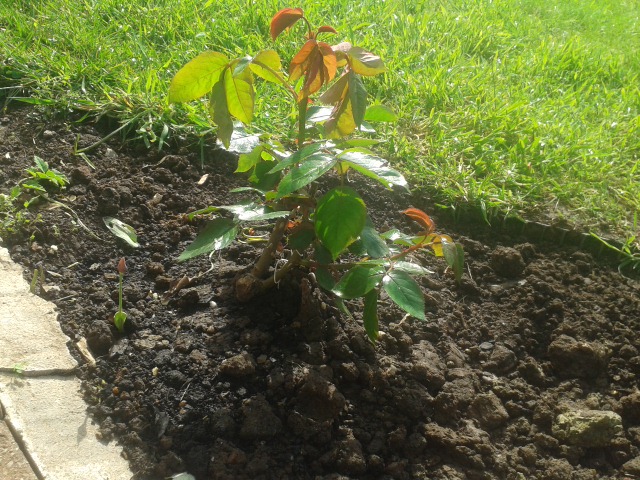 I planted five roses in my front bedding area last week. Two of them seem to be in shock from replantation (photos 2 and 3). They have been like this for one week now. I am particularly worried about the bigger light green leafed one (second photo, a Portland rose, Rose de Rescht). The other one is a hybrid tea, Troika. With Rose de Rescht, all the compost fell away when planting and we also moved it three times because the person digging the hole would not let me position it beforehand so we had to keep digging new holes. I wonder if when we finally got it in, we didn't pack it tight enough. Also I had heard that you can't plant a rose where one has been before, and there were some dead and crappy roses there before. But I dipped the roots in that fungi stuff beforehand which is meant to negate that replant disorder thing.
All five roses were planted in spots where previous roses were so I don't think that's the reason because the other 3 are fine. All those leaves are pointing upwards, not drooping like these. I have not watered it excessively but do you think it will recover and go back to normal? Isn't one week a long time for it to be dropping like this?
A similar thing has happened to one of my dahlias which was growing fine in the pot and as soon as I put it into the ground it has flopped (photo 1). Is this going to die too? Thanks in advance for any ideas or opinions.