Forum home
›
The potting shed
My Perfumed Bristol Garden in 2016.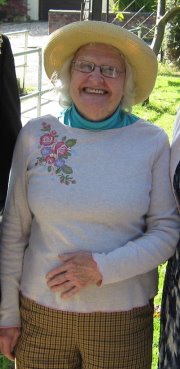 happymarion
Posts: 4,591
HAPPY NEW YEAR and welcome to my new thread.  Having been saddened by the plight of our pollinating insects and being fond of growing my own fruit and vegetables I have resolved to do my utmost to encourage as many as possible into my garden.  As I get great pleasure from my sense of smell and touch still, despite, at 87, fading eyesight, hearing and taste, I shall concentrate on scent and touch in my planting this year. 
The year has started with a change in the weather.  Only 3degrees this morning at 7o'clock so my greenhouse heater had switched itself on.  Forecast is for rain later and only 8 degrees which is quite a contrast from the 14 we have been having.
I was greeted by the lovely perfume from my Xmas hyacinths sitting in the kitchen by the bowl of bought fruit I indulge in from the shops only once a year.  The Charles Ross apples up my garden are not as pretty as these "Pink Lady" but taste better!  
Two of these very large hyacinth bulbs are showing their second spike.