Forum home
›
The potting shed
Really need some help, badly!!!!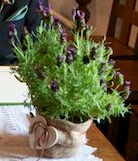 hawk and rose
Posts: 18
Basically I'm absolutely shocked, devastated in tears and completely don't know what to do!
Background history... We moved to Olney in October, we applied for an allotment on January 3rd and got an email saying an allotment was available on 6th August. Husband went to look at the 3 allotments available on friday 11th January and we fell in love wth a five pole allotment with a shed, fruitcages and water butts, composters the lot it was well maintained, perfect. We put our appliation in and on saturday 12th January it was ours.
Only hiccup was that the previous person passed away and the shed wasn't emptied, the guy that showed my husband around told us the son would come that weekend and empty the shed. So we left the shed as it was because of the sensitivity of the passing.
Fast forward to last weekend, we started doing some major work on the allotment. We turned the soil, we built a cold frame, we made a herb bed, planted up fruit bushes and strawberries we took all our terracotta pots over ready to start planting, we put a menbrain down and bark in the fruitcage to control the weeds. It looked amazing, I got taking photos and everything, especially of my coldframe as that was my birthday present.
Only problem we were lugging the tools around and we really needed to have the shed available. So I emailed the council and said we understood the sensative issue of the passing of the lady and how the son hadn't emptied the shed and how we were willing to use some bolt cutters and cut the lock and we would store the equipment inside to keep it safe or we could take it over to him if it was a problem.
The lady at the council replied the next day with this reply-
"Following your correspondence below I have been in contact with the previous allotment holder.
The keys are mislaid and they have removed all tools they require so you can as you say get some bolt cutters
and enter the shed.
 Hope you have a successful first season."
SoI borrowed the bolt cutters from work on monday night and tried to cut the padlock but failed. I managed to pull the doors open and found some tools and rubbish inside. I shut the door back on itself and moved the strawberry lanter infront for a bit more security. And decided I would get a screwdriver and need padlock clasp and screw it on, on friday. 
Fast forward to friday, i walk down to the allotment to find all the water butts are taken, one of the ornaments gone, my cold frame gone, my herbs have been dug up, my strawberries have been taken as well as the bag, a 100 litre bag of compost gone, all my pots gone, everything was just stripped and taken!
I broke down in tears, we spent so much money on the allotment and he stole it all!
I called the council, but they were closed. I tried the local police station but they were closed, so I dialled 101, and gave them some information, and they are sending a police officer tomorrow, (which means i'm going to miss my friends hen do, as I have to be present as i made the complaint) but we are completely stuck.
If we can't get all the stuff back I don't know what we are going to do, we can't afford to replace all that before the season, we we're meant to buy a PVC greenhouse and wood for our beds at end of this month. But we can't do that now if we have to replace the water butts, my cold frame, the herbs, strawberries and pots. We need the cold frame first and the water butts, but I can't see us being able to afford all tha next month.
I really don't know what to do! He's completely destoryed our season and we haven't even started yet and were new. And whats worse is he's left use with a whole load of rubbish! So we have to clear all that. 
We have proof