Forum home
›
Fruit & veg
Galeuse d'Eysines Pumpkins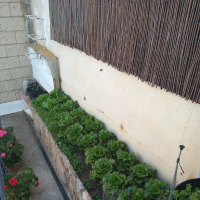 Andrew Kenneth
Posts: 265
Grown these for the first time and they are huge now. I am really pleased. I haven't watered them once since planting. Maybe growing under plastic sheeting has helped.
All I did was put the young plant in a hole filled with compost and cover with an empty 5 ltr water bottle as a cloche
until it developed a little.
Just wondering what they taste like and when should I remove them from the vine??