Forum home
›
Fruit & veg
Pumpkin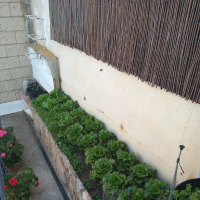 Andrew Kenneth
Posts: 244
First time I have grown pumpkin and, I have one now the size of a basketball and was wondering when do I harvest
 It's the one in the photo which is now basketball size as I said.
As it is now this big is it only fit for Halloween or will it be edible?
When I purchased this pack of seeds (Jack O Lantern) which I presumed are an
orange colour this and a few others developed as well as a few orange ones.
Maybe that's what happens when you buy B& M cheap seed!
Is it possible that this type is called 'Angels Hair'  which is mainly used for
jams/desserts?
Thanks