Forum home
›
Plants
Is it still worthwhile lifting the dahlia tubers...?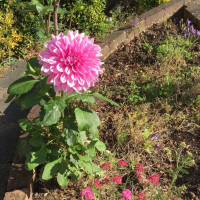 msqingxiao
North London
Posts: 408
My dahlias were only blackened by frost earlier last week, and they are obviously covered by a foot of snow now! Wondering if it's still worth lifting them later this month when the temperature seems to be getting higher?
And also what kind of animal footprints were this left in our garden? Didn't capture anything on our ring doorbell..