Forum home
›
Tools and techniques
Making old fence into trellis?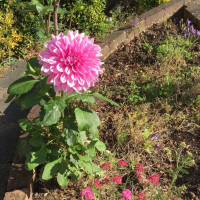 msqingxiao
Posts: 482
Hi all, we've recently replaced some old fences. I'm thinking if we can use those to make slatted trellis (to go on top of brick walls) similar to this one: 
https://www.eastcoastfencing.com/fencing/garden-trellis/1-83m-x-0-3m-slatted-trellis
My partner thinks that our old fence panels are a bit too wide and too thick though. Any advice please? Thanks!