Forum home
›
The potting shed
Hose Pipes are Not Evil - Discuss!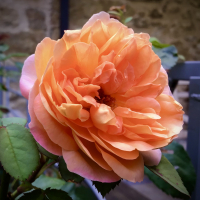 Nollie
Posts: 7,490
Save Water! Don't use your hosepipe, use a watering can! 
Well sorry but that's utter rubbish. Hosepipes are not evil, wasteful things, they are inanimate objects subject to your will and your whim.
You can use just as much water by using a watering can, sometimes more. Try counting how long you need to fill a can with the hose and see if you are as long pointing a hose directly at the base of a plant instead. If I use the hose instead of a can, I definitely skimp on the watering. I know I'm meant to count to 30 to get to the 10L that shrub needs, but I find my arm drifting off to the next plant way before that.
Hoses are a useful moving water supply that you can drag down the bottom end of your garden and use to fill cans there, they are not 'wasteful' in and of themselves. If you have mobility/lifting difficulties they are essential.
Now, if you fit a sprinkler attachment and wastefully waft it about or use a lawn sprinkler for hours on end, that's different. Why not a hose sprinkler ban rather than a hosepipe ban?
Mountainous Northern Catalunya, Spain. Hot summers, cold winters.