Forum home
›
Garden design
Advice needed on new garden border project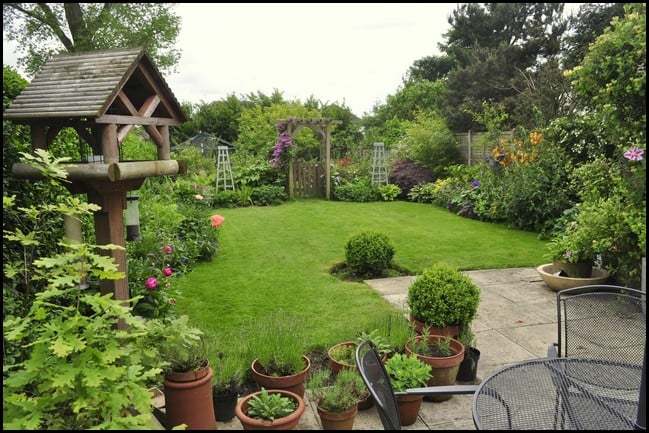 LeadFarmer
Posts: 1,382
I'm in the process of creating a new border in my garden, which I want to plant with plants for pollinators. Any advice welcome for planing suggestions to make a nice looking longish border please. In the meantime I'll share some photos of the project I started yesterday..

I've been meaning to crack on with this project for a couple of years, but decided to finally make a start this weekend.
Decided that I wanted to increase the planted area of my garden by reducing the size of the lawn so I can make a new border. 
Here's a photo of how the garden normally looks..
And from ground level..
I'm wanting the new border to the left, whilst keeping an area of lawn to the right for our dog.
Realising that it will cost a fortune to fill the new border with plants purchased from the garden centre, I've been potting any plants up I get my hands on, and started growing lots of plants from seed in my greenhouse earlier this spring.
Decided to keep a grass path alongside the privet hedge so I can get to cut the hedge and mow up the cuttings, so yesterday I set up some strings to mark out the new border, you can just about see them here...
Yesterday I had a turf stripper delivered on hire for the weekend, a Camon TC07. I really only needed it for a couple of hours but they charge just a day rate for the full weekend, so the timings worked out well..
By the time I had realised it was cutting too high and scalping the grass, I had already done half the lawn. I wanted some strips of turf with decent soil layer to patch an area by the hedge. You'll see in the first photos there is a small crescent shaped border half way along the hedge. I removed these plants and potted them up, so I could patch the area with turf. I made some adjustments to the blade and carried on..
Having patched the area of grass that was missing up against the hedge, I stated digging over the soil by spade. Im on heavy clay but I have about a spade depth of decent soil that needs loosening up to plant in...
This is where I have stopped the for day, I have arthritis in both knees, a bad back and plantar fasciitis in one foot. I know if I carry on I will be in too much pain to continue tomorrow. It'll take me a couple of days to dig it over. I want to raise the height of the soil to give me a nice deep bed to plant it, so I'll be trailering in some manure and topsoil, and I might relay the turf grass side down (or stack it for a year for decent soil).
So in a few days I hope to have a fairly long border to plant in, and should look good next year.