Forum home
›
The potting shed
BUY A DOG AND BARK YOURSELF.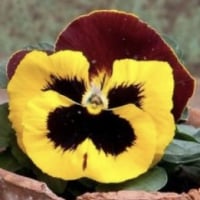 pansyface
Posts: 21,886
Two years ago we brought home a rescue cat. She was 8 years old and had spent her entire life in a two roomed house with no outdoor space.

We thought that she'd enjoy her new home with a big garden and new things to look at.

For the first year she never even looked out of the window, never mind stepping outside.

During the second year she has gradually accepted that there is such a thing as outside but only goes there under duress. There must be: No sun. No wind. And definitely not a drop of rain. And only if we are outside too.

She has absolutely no idea of hunting. Birds know this and ignore her. She ignores them.

Today, I saw that one of our many pesky moles had found a new run which was along the side of a stone path and beside a stone wall. Very shallow soil, maybe only a couple of inches.

The mole couldn't burrow, only tunnel along at ground level. It was doing a grand job of digging up my rockery plants. 





Right! I thought, Time to get a cat in to send it scurrying. I found the cat and presented her to the mole. She took one look at it.




And scarpered back to the safety of the house.
Apophthegm -  a big word for a small thought.
If you live in Derbyshire, as I do.