Forum home
›
Plants
Roses ID and recommendations please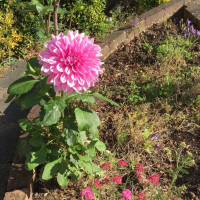 msqingxiao
Posts: 460
Hi all, we plan to plant two bush roses in our front garden, which is clay soil and southwest facing so full sun. We also want to plant a climbing rose in the back garden on a wall that is east-facing but also gets quite a lot of sun in the summer. We want to have roses that are: Fragrant, long-flowering, plenty of flowers, (for the bush rose) can grow quite tall (>1m). 
I saw some of our neighbours' roses (first two are bush roses, 3rd believed to be a climber) that tick all the boxes, but I don't know their variety. If someone can help ID them it would be great.
Also, where would be the recommended places to buy such roses please? Any particular online nursery or local garden centres? And what is a reasonable price to pay for a young plant (not bare root, had the experience of root stock taking over...)?
Thanks!