Forum home
›
Garden design
Brain's gone blank - looking for inspiration
Jenny_Aster
In the Cambs Fens
Posts: 527
I'm trying to make a wildlife area right in front of our French kitchen windows so we can have a 'cinematic' view of garden visitors/dwellers. I've formed a pond but what do I surround it with? Crazy paving and stones doesn't do anything for me, though I know they do look nice, but it's the gapping between them that I think is causing me a blank. 
Guessing that whatever is put around the 'pond' the stones/paving will need to be small to match the dimension of the small pond. An overlap of the pool would be possible using pavers to hide the edge of the pond. 
If I went for crazy paving, I'm imagining the gaps could be planted with small plants such as London Pride? Would it be necessary for the pavers to be cemented in? 
Having a couple of terracotta or ceramic pots of plants would look good standing on flat surfaces such as a paver, it would break up the height levels.
Or should I go for a hypertufa effect and form my own pavers? I've read hypertufa is quite easy?
For the whole area I'd like to see it jam packed with plants with birds in mind and to help feed them ie with sunflowers.  At the moment it's got a blue hibiscus (a gift) and a climbing rose (for the obelisk). I've a dwarf holly bush to plant there yet. Filling in with perennials and annuals.
The pond does have a depth of 60cm for half of it, with two shelf areas. I've ordered a dwarf bullrush, a marsh marigold, and an iris plant for the shelving. I'm also waiting on oxygenating weed Elodea Densa x10.
In the 6 months we've lived here I've only ever seen a bird in the garden twice, and I think that was the same blackbird. I've seen pigeons and seagulls flying around, and a large owl one evening, but nothing that's caught my eye. Though being an early dogwalker, they are around cos I can hear them singing their little hearts out!
I'd appreciate any ideas offered. Ta very much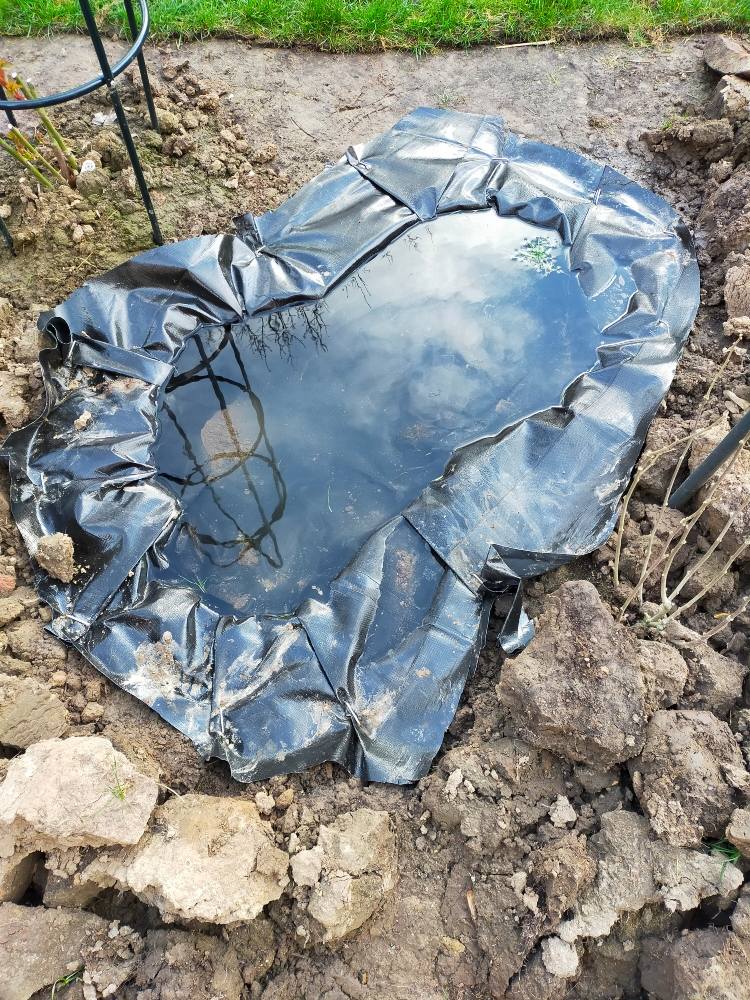 Trying to be the person my dog thinks I am!