Forum home
›
Garden design
Front Garden Woes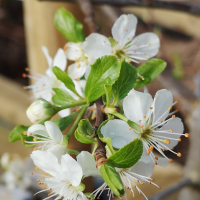 februarysgirl
Posts: 813
For the last couple of years I've focused heavily on the back garden and have neglected the front. It's mainly because on one side, I share it with a neighbour. On the side that's 100% mine I'm going to make it a wildflower lawn but I have no idea what to do with the shared side. One of the problems is that I've had plants stolen from my front garden in the past so I can't have anything that's too "nickable". I'm also stumped about how to divide my and my neighbour's side. Anything that can be picked up/thrown/kicked is also a no go.
This is a photo of the front garden(old estate agent's photo as it's currently much too scruffy!). My bit is half of what's on the right so as you can see, I don't have a lot to work with. The tree that you can partially see on the right is a crab apple (don't think I've seen it grow much above 2m) and on my neighbour's side. 
The garden is north facing and I'd also like low maintenance. I don't want too spend much either as I'd rather spend the money on my back garden as that's where I spend my time. It's not the easiest of wish lists, especially having to take the theft/vandalism element into account but any suggestions would be warmly welcomed.