Forum home
›
Problem solving
What's been throwing compost out of my bin?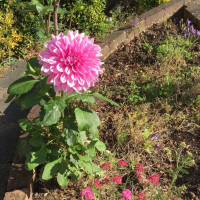 msqingxiao
North London
Posts: 346
Hi all, a few days ago we noticed that our compost bin seemed to be leaking some compost out. There was no sign of the bin being disturbed, and the lids at the top and the bottom were both well shut. We shovelled the leaked compost back into the bin.
Yet today it happened again! Does anyone have an idea why this is happening please? Some animal living in our compost bin?? Thanks!