Forum home
›
The potting shed
The Nature Table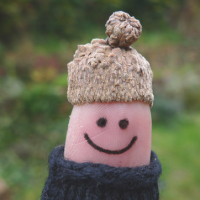 wild edges
Posts: 9,931
I didn't know where to put this so I'm starting a new thread that anyone can add to with any interesting natural history stuff that they want to share.

I'll post the photo first and the details after just in case anyone wants to play guess the mystery object. These two things are about 25mm long (one inch) and about 13mm wide (half an inch), hollow and made of stone.

I found these while on holiday in Fuerteventura in 2013. There was a group of them in among the sand dunes, mostly broken into bits, but I managed to find these two intact. I couldn't work out what they were but they looked like a type of insect nest made of mud. They clink together like terracotta so I assumed that they'd been baked in the sun to make them rock hard. I couldn't find anything about them anywhere so they've been sat on my shelf ever since as a curiosity. That was until yesterday when I was looking for something else on the internet and came across a reference to fossilised weevil nests in Australia. These were clearly different but it gave me something to go on. Eventually I discovered that these are fossilised bee nests from a solitary bee that lived between 10,000-30,000 years ago. I've put a red mason bee cocoon in front for scale. The nest would have been loaded with food but I assume this was from a much bigger bee.

What's also interesting, to me at least, is that the one on the right looks like it pupated but the one on the left has the end cap intact but has holes punched into the sides. This probably means that the nest was predated or attacked by a parasitic insect of some kind.

Details
here
if anyone is into this kind of thing.
Tradition is just peer pressure from dead people