Forum home
›
Problem solving
Fatsia not happy indoors or outdoors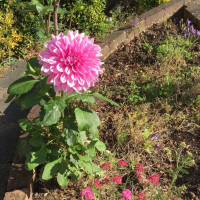 msqingxiao
North London
Posts: 346
Hi all, I bought this Fatsia in Apr this year as a houseplant. It seemed to be happy for a few months but in Aug I noticed suspected spider mites. The air circulation indoors was not great so I wiped the leaves, repotted to a bigger pot, and moved it outdoors to a shady but well-ventilated area.
Now it doesn't seem to be happy again, with leaves a bit curly and discoloured, and some with holes. I also noticed some black ants on one of the young leaves (middle of the second photo). 
Does anyone know why it is like this please? And any method to help it?
Thanks!