Forum home
›
Fruit & veg
Is this autumn-fruiting raspberry?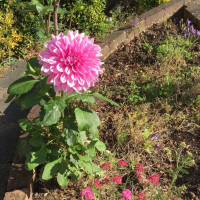 msqingxiao
Posts: 482
Hi all, I noticed some ripe fruits on my raspberry today. Think they should be the autumn-fruiting type? We didn't plant them. They turned up mysteriously in the spring (
https://forum.gardenersworld.com/discussion/1055979/a-few-big-weeds-plants-id-please)
.
They are currently growing in a very shady location, under a palm tree. Wonder if I should try to move it to a sunnier location for better yield? Though Monty said in the latest episode of GW that they prefer "cool, damp conditions"?
And as my other half subtly pointed out, while enjoying the first batch of harvest of seven raspberries, that they are among his favourite fruits, if anyone has good tips on how to propagate them would much appreciate.
Thanks!