Forum home
›
Tools and techniques
Repurpose enameled cast iron pot as planter?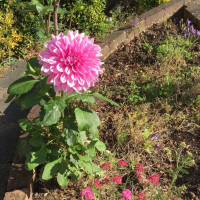 msqingxiao
Posts: 460
Hi all, my very old enameled cast iron pot (not Le Creuset) has its enamel cracked at the bottom, exposing the cast iron inside. I don't think I can use it for cooking any more, and am thinking about repurposing it as a planter for my succulents, by putting some gravel at the bottom for draingage. 
I'm worried about water getting into the cast iron and cause it to rust though. Wondering if anyone has any advice on how to seal the cracked enamel bits please? I'm thinking about silicone sealant, but have no idea whether it will work....
Thanks!