Forum home
›
Plants
Campanula companions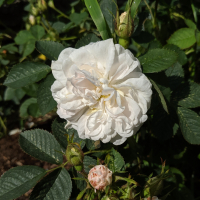 jonathan.cole
Posts: 215
I've got a bit of new bed. Partial shade, clay soil but with fairly nice well drained top soil. In County Durham so maybe down to -8°C or so.
I intend to put in some white Campanula persicifolia. I want to partner it with some tall-ish orange and red flowers (ornamental and Welsh poppies maybe, or perhaps a nice geum to peep up between the campanula flowers).
I'm pondering on what lower flowers to have near the front and/or to suppress weeds. Colour scheme is white with yellow/orange/red accents.
I've no idea how robust campanula persicifolia is. I presume something like vinca minor would be too much, but would some white geraniums work? Or anemone nemorosa to cover in spring and then bugger off for summer? White violets? Phlox subulata?
Any thoughts welcome!