Forum home
›
Fruit & veg
Plum and Green Gage Pruning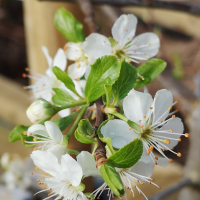 februarysgirl
Leicester
Posts: 570
Back in December '19 I planted a Victoria plum, a Czar plum and an Old Green Gage. All on pixy rootstock (although I have my doubts about the Czar plum) and all 2 years old at the time. I let them be last summer as they hadn't been in the ground (well, open bottomed raised beds) that long so have been looking to prune them this year. I've taken off all of the lower branches which were spoiling the look and some of the really obvious ones that were crossing. As the following photos will show, they've all grown a little haphazardly.
Victoria Plum.
Green Gage
Czar Plum (you can see why I have doubts about the pixy rootstock)
As you can see, they're a little on the wild side and need reigning in but I have no idea how much I should be taking off of the branches.
Pruning advice would be gratefully received!
Also, apologies for all the photos.