Forum home
›
Garden design
Front garden ideas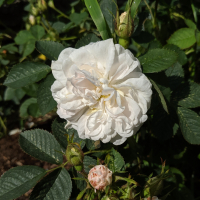 jonathan.cole
Posts: 221
Looking for ideas for something to plant in the right hand side (telegraph pole end) against the house wall.
Currently on the left there is a rose (Alberic Barbier) which I intend to train higher and wider once I've got some more wires up. Lavender hedges along the front. Two rose standards (Bonica) in pots either side of the front door.
East facing. Usually sheltered from the weather but the beast from the east did clobber that side of the house.
Something with some height, possibly that could be trained around the windows. Nothing that will wander on its own too much and cause grief for the neighbour's porch guttering (so no self clinging climbers). Evergreen might be nice, both to keep something going over winter and to keep the soil by the wall a bit drier (old house so gets a bit damp in places).
My brother has a lovely ancient pear tree against the wall of his house, so we wondered about that. Or I've seen old stone houses with magnolia grandiflora trained against the wall. Or another rose and try to join them up? Or a columnar tree like an amelanchier obelisk?
We are in County Durham, so H5 or better probably needed I think?