Forum home
›
Plants
Lewisia Cotyledon rotting....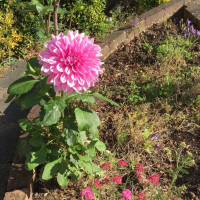 msqingxiao
Posts: 459
My newly bought Lewisias seem to have started to rot unfortunately... I repotted them into 50/50 mixture of soil/grit after arrival and left them in pots on a sunny patio outside. Didn't water them heavily straight away as I read that they like dry conditions. Leaves were becoming droopy at that point and I wasn't sure whether they were overwatered or underwatered. Then it rained for a few days, which in hindsight was probably the cause of the rotting. I removed some leaves going red from one plant that's doing particularly badly, but it didn't help either.
Anyone's got experience looking after this plant please? Was reading previous posts saying that they should be planted in crevices but I don't have a rock garden yet. Now I'm starting to think that I may need to keep them in pots indoors forever as it rains so much here in London.
Any advice would be much appreciated!