Forum home
›
Garden design
If you had a free reign over this front garden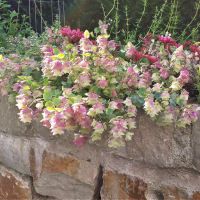 coccinella
Posts: 1,020
what would you do?
It is roughly 5.50 x 4.50. North-east facing, full sun in the morning. Continental winters, although not what it used to be.
Soil is clay, slightly acidic. As you can see, it looks like a big raised bed on the side of the garage, so it is well drained. Ideally I would like plants that are not too thirsty.
The berries of the berberis are very much liked by migrating birds in October plus it screens the house from the street so I would like to keep it. I would like to replace whatever is in the middle with a small deciduous tree/large shrub but all suggestions are very welcome. Thank you!
Luxembourg