Forum home
›
Plants
Newly planted Prunus subhirtella "Autumnalis Rosea" tree - looking okay?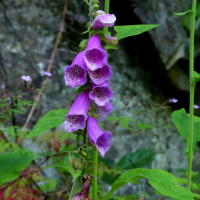 foxglovelover
Posts: 13
Hello everybody,
thanks for taking a look at my Prunus subhirtella "Autumnalis Rosea". 
I planted it 2 months ago, and while it's not looking any worse than when it arrived on the truck, it still hasn't got many leaves. That doesn't worry me all that much, I know I should be patient ... But now there's bit of tape coming undone at the bottom of the crown. Is this a problem? Did I get ripped off by the seller? it looks like the complete crown was grafted onto the trunk.
The instructions coming with the tree said to leave the cloth around the roots intact, as well as the metal 'basket'/frame-like construction. I did leave it, but I cut it open (both the cloth and the metal wiring), so that the roots could freely settle. Apparently the cloth will rot and the wires will not be in the way of the roots ...
I water this tree twice a week; we live at the seaside and the soil is quite sandy and draining. I also added some compost to the soil before planting the tree. 
There are quite a few prunus trees in our street, and they are all doing great. So the location is definitely okay.
Sorry about the photos being topsy turvy: I can't get them to appear straight 
I really hope the tree is doing fine, and that the thing with the tape is nothing to worry about ...