Forum home
›
The potting shed
Gardening and losing the faith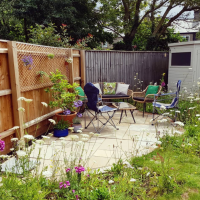 WildFlower_UK
Cambridgeshire, UK
Posts: 215
I don't expect to be the only one this year, let alone ever, but I've had so many gardening fails this year that I'm starting to lose faith.
It started earlier this year when it was the main spring sowing time. Although I had a 100% success rate with tomato seed germination (more on that later), other veg seeds like beetroot and radishes were much less successful. And although some beetroot did germinate, they never amounted to anything. After about 2 months since sowing them, no beetroot bulb was forming so yesterday I pulled them all up. About 1/3 of my radishes are successful - plenty of bushy greens, hardly any actual bulbs. My coriander keeps bolting, as does my rocket, and the mixed pick and come again lettuce are taking forever to grow to anything edible. By the time it was warm enough and I hardened off my tomatoes to be planted outside, they were looking stressed and leggy (particularly the cordons - bush variety slightly healthier, although not so much now). Hardly any of my giant sunflower seeds germinated (although I'm assuming that the seeds might have been a bit old), and lots of my Dwarf French beans seeds didn't germinate (I managed to get five which are now in the garden although very small still). 
So my veg growing wasn't going great. But last week I went on a UK break to elope and left my cat and garden to a friend to look after, with a breakdown of instructions. Through absolutely no fault of theirs, what I came back to was a
flattened meadow
(due to heavy rains), potted lavender and rosemary bushes that had just completely died and gone brown (I told her not to water them as they'd been watered a day before we went so not sure what happened as they should have been fine), and my tomatoes look like they're struggling even more (see image below of a bush variety). I was, and still am, gutted. So much so it took me 5 days to work up enough strength to get out there and really investigate the damage.
I've managed to stake/prop up some of the worst of the collapsed meadow, the lavender and rosemary will have to be binned, and I'll just see what happens with the tomatoes (they were planted out 2-3 weeks ago - after hardening off for a week - into a rich, fresh soil/compost/manure mix, and were given some Tomorite yesterday to see if that will help). My green beans and courgettes plants are small but reasonably healthy looking, and the sunflowers (small red ones) that did germinate are steadily growing (hope!). Thankfully I've had a plentiful supply of basil so we've at least enjoyed a few batches of decent pesto!
I don't really expect anyone to say much, but I don't have many friends who do a lot of gardening and I just wanted to rant/seek sympathy from fellow gardeners who I'm sure have experienced more than their fair share of disappointments!