Forum home
›
Plants
A few big weeds/plants ID please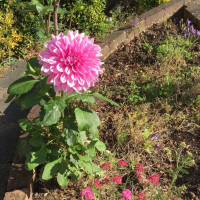 msqingxiao
Posts: 480
First year gardening, so there are more mysterious weeds/plants growing in the garden than the new ones we bought.... Could you please help ID? Thanks!
Plant #1: Some sort of bramble? It's got thorns and even a bit of green flowers (in the first pic)? Wonder if it will bear fruits... 
Plant #2: Two of the same kind. Look like kale but I'm pretty they are not....
Plant #3: Looks quite common but don't know the name...
Plant #4: Got purple stems, and one is starting to have some pink flower buds on top