Forum home
›
Wildlife gardening
New Pond Bugs ID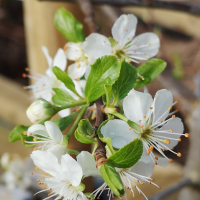 februarysgirl
Posts: 715
So, last Tuesday I finished a half barrel pond and was dead chuffed to see a diving beetle a few hours later. Not long after, the mosquito larvae showed up (unfortunately) as did more beetles. The last few days I noticed other beasties with antennae darting about the pond but I have no idea what they are, whether they are larvae or adults.
There are also some very thin squiggly things that propel themselves by moving in what looks to be a figure 8, very quickly. Unfortunately it hasn't been possible to get a photo of them. It also wasn't possible to get a photo of the worm I saw at the bottom of the pond this morning as it was headed toward the underneath of a brick and I couldn't get my phone out quickly enough. It looked just like a normal worm, should it be there? It's possible it was inadvertently dropped by a bird flying overhead and needs rescuing. I'm not sure what to do.
In good news though there was a red dragonfly/damselfly checking out the pond a couple of days ago. Unfortunately my phone was indoors so I couldn't take a photo but it didn't stay still long enough anyway. 
Any ideas what the latest bugs in my pond could be?