Forum home
›
Plants
Sunflower questions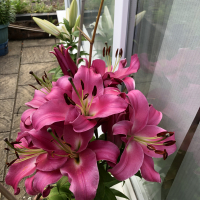 Ilikeplants
Posts: 894
I've done a search of old threads but nothing came up on this.

Does anyone grow their sunflowers in little groups of 2 or 3s because it gives a nice bunch effect instead of just a random one stalk, one head look?

Why do they need to be staked when there fields of these growing in quite hot places and I don't think there are individually staked.

seedlings - do you repot like tomatoes and bury them deeper up to their leaves?