Forum home
›
Plants
Tiny pots - what can they hold?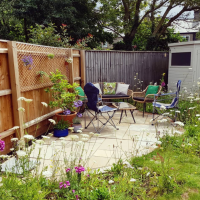 WildFlower_UK
Posts: 236
We have an expanding bamboo trellis fixed to our fence to help disguise some banding in our fence. I also have 5-6 x 10cm metal pots with fixed hooks that I'd like to hang on the screen. Question is, what if anything can survive in these little pots over the summer? The fence is south facing so gets a lot of sun. 
"If you have a garden and a library, you have everything you need"