Forum home
›
Garden design
Opinions please :)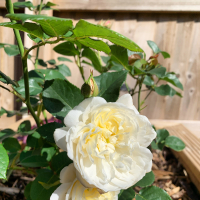 KCMM09
Wales
Posts: 74
Hi all, 
this is my garden. I feel brave posting as I'm a bit unhappy with it at the moment. To the left, you can see some perennials have been planted or coming back, the arbour has a bare root rose climber starting to grow and a potted started to grow over it. To the right of that are roses and a continus shrub which ill keep small. In the sleepers are various shrubs and some bedding. Some haven't grown back yet etc. 
My garden is north facing. Clay soil but within the borders I have dug a few feet and replaced with compost mixtures. The sleepers were clay and I also add compost to that. 
I like gardening any time of year. I'd like the garden to have full borders all year round. I like perennials but feel
more shrubs may be beneficial. I like cottage plants.
I'd like ideas of what you'd do if this was your garden, to the borders. Kind words only please
I'm new to gardening