Forum home
›
Plants
What's this shrub growing out of the ivy please?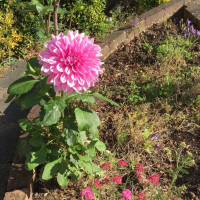 msqingxiao
Posts: 482
Hi, I'm new to gardening and new to this forum too
Would like some help identify a shrub that has grown out of the ivy on the wall of our garden. We moved to the house last winter so have not noticed this shrub until now. We trimmed the ivy back a bit earlier in the year. 
Wonder what exactly this shrub is and what to do with it.... Thanks!