Forum home
›
Tools and techniques
New raised vegetable bed - to cardboard or not to cardboard?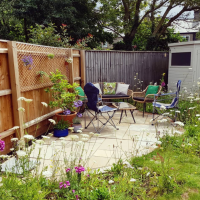 WildFlower_UK
Posts: 218
I recently installed a new raised bed and the compost/manure/top soil mix arrived today.
Before I fill the new bed, I'm still unsure about whether I should add a layer of cardboard between the cleared ground and new soil mix. Images to follow but you will see there are still some roots in the ground soil from when we took up the turf.
Questions are:
1. Will these roots likely cause major issues if I don't remove them? Or will the layer of new soil effectively suffocate the roots?
2. If I add the cardboard layer over as it is, I presume it will take a fair few months to breakdown therefore affecting what I can grow in the space as the without access to the ground beneath the bed is quite shallow?
We have clay soil. While we were building the raised bed we had to walk over the cleared area, compacting it. We have turned over the top 2-3 inches of soil to loosen it up. The size of the bed is 2m (longer sides) by 1m (shorter sides) and the depth of a scaffold board, so around 10 inches. I plan to grow courgettes, dwarf French beans, some herbs, radishes and beetroot in the bed this year.
Not sure what's best, any help greatly received.