Forum home
›
Garden design
How to visualise plants in the garden?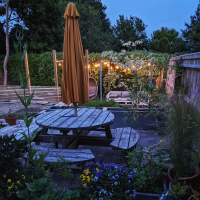 Latimer
Posts: 1,034
Hi all,

As a novice gardener stuck in lockdown, I was wondering if you could help me figure out the best way for me to visualise plants that I'm looking at for the garden?

I have spent quite a lot of time researching and I find plants that might work for certain areas but when you try to look them up online to get an idea of what you could end up with, you get a lot of "stock" photos, or close up of the leaves or flowers. I find it particularly hard to find images of those plants in use, planted up as part of a scheme. Most photos of a whole shrub, say, usually has the plant in isolation. 

Where are the best places to be able to get an idea of how plants might work with other plants or is that just something you learn with experience?

Thanks all.
I've no idea what I'm doing.