Forum home
›
Fruit & veg
Preparing a new raised bed on turf / lawn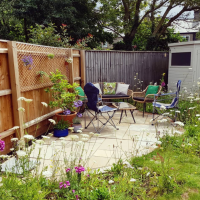 WildFlower_UK
Cambridgeshire, UK
Posts: 214
Sorry if this has been answered elsewhere but I couldn't find anything by searching.
We will be installing a raised bed made up of old scaffold boards. We will be placing the frame on our lawn in a sunny location. But I'm reading conflicting advice how to best prepare the ground. I intend to stake the boards into place at the corners with concrete, and fill with a compost/topsoil/manure mix. The sides will one board high (so around 12 inches) - the shape is L-shape and will be roughly 2mx2m with a missing 1/4. Do I:
Cut out and remove the turf completely?
We have the usual dandelion and aggressive grass (not sure but maybe couch grass) in some patches.
Cut out and turn over the turf?
I heard this means less soil mix is needed to fill the space, and can also help with drainage.
Put cardboard down
between the cleared/turned over turf and new soil mix? I know it will break down eventually but not sure if I'm too late in the lead up to do it.
Not sure which is the best combination. Happy to remove the turf but not sure how to turn it into compost/soil? 
I want to start using the beds this year for growing veg. Although we will be rotating crops year to year, this year I  plan to grow some dwarf French beans, basil, beetroot and courgette plants in the new raised bed (I have other planters, pots, containers for other plants).
Thanks in advance