Forum home
›
Wildlife gardening
bird feeder, what sort do I need?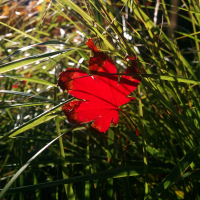 micearguers
Posts: 614
The problem I have is that birds don't seem to want to eat mixed seeds feed. I've tried two types, with ingredients of heat, kibbled maize, red dari, black sunflowers, kibbled peanuts, pinhead oatmeal, flaked naked oats. The target audience is listed as robin, greenfinch, house sparrow, chaffinch, great tit, sisikin, and all of these birds frequent the garden.

One issue might be the perch feeders; perhaps the birds that like this food prefer a platform or table of some sort?
Another issue is that the sunflower hearts and nyger seeds I put out are very popular. They are entirely dominated by goldfinches, but other birds do manage to sneak in. I've now started to put this food in a different part of the garden, closer to the house. It has the benefit of bringing the goldfinch arial battles more into view. The goldies really are the dominant mob in our garden.