Forum home
›
Plants
Fond of Fronds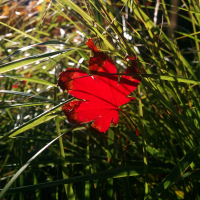 micearguers
Posts: 614
A thread for all fern aficionados to relive
Pteridomania
and find Jurassic sights, unfurling curves,  verdant green and perhaps some frizzy hair dos. At least a place with this initial post, but the more the merrier. I would love to see more pictures of ferns and descriptions of how they grow.

My garden is on chalky clay, so on the alkaline side. That means Polypodium, Polystichum, Dryopteris, and Asplenium are the main genera in it, with additionally Cyrtomium, Blechnum, Athyrium and Adiantum. Below I describe a few, but I realise that some favourites are missing, Dryopteris wallichiana, D. atrata and D. kuratae. Most of them are still tiny, and wallichiana actually looked this year as if it might have some form of chlorosis (hence omitted here).

Above mostly polystichum setiferum. A young Fatsia japonica will hopefully flesh out, form an understory, and provide contrasting foliage. This border is further underneath a young evergreen Spanish Oak that has the crown lifted a bit to free up the understorey. The white  blossoms scattered across are from a Choisya ternata. The oak may lead to a lack of moisture in the future, but the shade is useful, the border heavily mulched, and established ferns can cope quite well with dry conditions. With the ferns, Choisya, Fatsia, Oak and an interloping Camellia this border is heavily evergreen and a winter favourite. The tree stump is a Lilac that I could not make work.


A recent addition is this Dryopteris Sieboldii. It is probably too close to the other ferns, but most of what I do in the garden is doing and undoing so hey ho.

The same border with Heart's Tongue ferns, Choisya foliage and the Camellia.

An old picture of three Polystichum braunii with in the foreground Vancouveria hexandra, a lovely low spreader. These have grown a lot since.
Cyrtomium falcatum, a wonderful fern, with Asarum Europaeum below it and a few stems of Tricyrtis formosana to the right. I hope the latter will pull through.

A recent picture of a what is a bit of a folly, a dry stone wall that has a mound and valley on one side. The ferns are Polystichum tsus-simense and one Asplenium trichomanes hanging on for dear life. The brown mass is Persicaria vaccinifolia (it looks nice the rest of the year, but I'm not sure how much it wants to rule the world). On top of the stones is a less visible mass of arrived-of-its-own-accord-ivy-leaved toadflax (Cymbalaria muralis) that is now swamping some other A. trichomanes. As I like the toadflax, I leave it be, and am trying my luck with trichomanes elsewhere.