Forum home
›
Fruit & veg
Can I freeze excess sage leaves?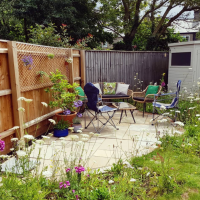 WildFlower85
Cambridgeshire, UK
Posts: 166
I have a sage plant that is starting to look a bit yellow from the wet weather. As winter isn't like to bring about many dry spells, I'm wondering whether it's worth removing some of the stems, and popping the leaves in the freezer for use over the winter before the leaves get worse?

The sage plant is it a container with other dry tolerant plants (lavender, thyme, salvia etc) and is made up of mostly compost mixed with grit, with good drainage at the bottom. Just mentioning this to show that the plant isn't sitting in wet ground.

Also the underside of the plant has quite a few shrivelled and brown dying leaves. Should I wait to Spring before cutting those away? The plant itself was bought quite small this summer so isn't huge but is probably around 30cm wide now.