Forum home
›
Fruit & veg
How to use a cold frame for seedlings / very young vegetable plants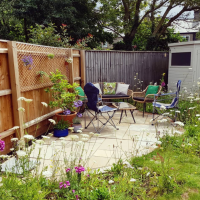 WildFlower85
Cambridgeshire, UK
Posts: 166
Last year we grew a small variety of vegetables and herbs from seed (just courgettes and basil - I also grew tumbler tomatoes but from shop-bought small plants, and Charlotte potatoes from seed potatoes). But this year I'm upping my game, installing new raised beds, and plan to grow a lot of variety:
- Tumbler tomatoes
- Courgette - yellow
- Courgette - Black Beauty
- Sweet Basil
- Russian Tarragon
- Coriander
- Lettuce mix - Red Salad Bowl, Suzan, Marvel Of Four Seasons, Little Leprechaun (to be sown straight into the ground)
- Wild rocket (to be sown straight into the ground)
- Tomato - Moneymaker
- Dwarf French Beans
- Radishes mixed (to be sown straight into the ground)
- Rainbow beetroot (to be sown straight into the ground)
- Chilli Pepper Padron

I have just about enough indoor window space with good light to grow these in seed trays, but as soon as they need to be grown on in larger 9cm+ pots, I think I'm going to struggle for bright indoor space. I want to end up with between 1-3 plants of each variety (minus the lettuce, rocket, radishes and beetroot which will be sown direct outside throughout the summer for a constant supply) and expect if each variety was in a 9-15cm pot, would be able to fit about half of them in the cold frame and keep the rest inside.

I guess my question is, can very young vegetable plants in 9cm+ pots go in a (south facing) cold frame? If I start sowing in Feb-April and can't plant out in their final beds/pots until mid-June, there will be some time in April and May where I hope to have some of the plants in the cold frame, but not in a hardening off kind of way as they'd still be quite young.

Any advice would be helpful!