Forum home
›
Plants
Chrysanthemum Care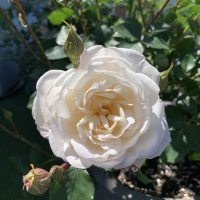 celcius_kkw
Posts: 486
So I've got three chrysanthemums that I bought as plug plants back in April - they're of the misty, allouise and fantasy varieties. 
I've got a couple of questions

1. They have all just started to produce flower buds with only one plant physically blooming (well not even in full bloom yet) at this time of the year which seems a bit late? I grew them indoors on a window sill in a pot up to September and then placed them outside (in a bigger pot). Is this normal? And given first frost will be arriving within a month should I bring them indoors to flower? 
2. What should do with them over late autumn and winter? I see people who dig them up and trim them down, storing them as 'stools'. I've also seen Sarah Raven simply bringing them into her greenhouse? I don't have a green house (I garden on a balcony) - my question is, can I simply bring them into my apartment? What is the purpose of storing them as 'stools'? 
I feel as though chrysanthemums have been forgotten by the modern gardeners and there is so little information about their care on the internet.. and the little bit of what I could find assumed one has a greenhouse which I don't 😞

Any advice is welcome and much appreciated