Forum home
›
Plants
Indoor Daffodil - growing tip above or below soil level?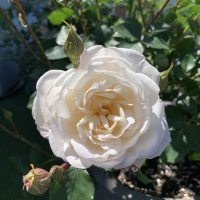 celcius_kkw
Posts: 752
edited September 2020
in Plants
I've bought some indoor daffodils - paperwhites, grand Soleil d'or and Earlycheer. 
Having looked up online it seems most people recommend growing them with the growing tip protruding just above the level of the compost/gravel.. but a few others recommend burying the tips with a few inches of soil. I'm growing them indoors in pots.. so I'm confused as to which way I should plant them... Any ideas? 

Also, I have come across some rather disconcerting reviews of the Israeli Ziva paperwhites that I have bought.. that they have a repugnant smell.. all the sellers of this variety claim that they're very fragrant, which is the reason I bought them. I understand that smell can be subjective but to be described as high fragrant on one hand and repugnant on the other seem to much of an extreme..?? I feel as though I might be setting myself up for a great disappointment..