Forum home
›
Plants
Pruning/deadheading sunflowers and honeysuckle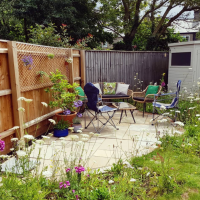 WildFlower_UK
Posts: 236
I have two plants that were planted this year, and I'm not sure what pruning or deadheading I might need to do.
The first is my
honeysuckle
.
It's had some growth but not much, and I'm wondering whether I should have pruned more to encourage new shoots? Any advice on what to do now, or even next spring, would be grateful.
And then there's my massive
sunflowers
grown from seed. 
The middle has already flowered and faded and you can just about see that some of the seeds have either been eaten or fallen out. The far right one is coming to the end of its flowering, and the left one is just starting. What's the general rule for large sunflowers? Should I cut the head off after some time has passed and birds have pecked the seeds? How far down should I cut the plant? And can I use the seeds to regrow new ones next year?
And, for bonus points, is there any trick to redirect the heads? All mine are facing out of the garden, facing approx N/NE? I thought they would follow the sun which is SE facing and face into the garden, but no such luck!
Thanks in advance 
"If you have a garden and a library, you have everything you need"