Forum home
›
Plants
Growing lavender in used compost - a disaster waiting to happen?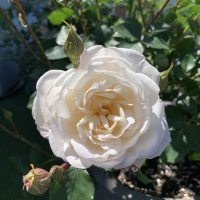 celcius_kkw
Posts: 751
I've got a large pot of used compost from this year's sweet peas which I have now removed. I have a small pot of lavender which needs to go into a larger container so I wonder if I could just transfer the plant directly into that large container of used compost? I read that lavender likes poor soil after all? 
I garden on a balcony so there's nowhere for the used compost to go but into the bin if I can't reuse it for other plants...