Forum home
›
Plants
Garden space - side of house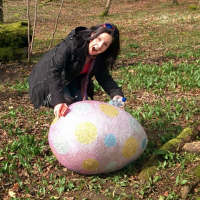 cazsophieq2019
Posts: 179
Hi everyone
The pictures are of the garden space I have at the side of my house.
When I first moved into the house, it was overgrown.  There was a massive tree trunk and an overgrown buddleia which I wanted to keep as the butterflies and bumble bees love.   
The buddleia was trimmed down and seems to be doing well.  There's a bit of hedging beside it as well considering whether to keep it.   Planted bulbs last year tulips, daffs, crocus's, muscari and hyacinths they bloomed ..... sort of .... it can be pretty windy here sometimes and for obvious reasons I think that negatively impacted the bulbs.  The alliums you can see are blooming for a second time from the same bulb, had no idea that could happen.  going to dig those bulbs out and relocate them to the front corner border possibly (intention being that they can pop up above the overgrowth of shrubbery that's there already). 
Violas, primroses, pansies and the everest ornamental grass and the acer (surprisingly) seem to be doing pretty well. 
The acer looks so delicate and I'm just wondering if .... when it gets bigger could the wind do it harm? 
As the site (being the side of the house) is quite shaded however is south facing and does get a few hours of sun during the day as well as being windy I'm wondering if anyone has any suggestions as to plant suggestions?  
Considering getting a Jasmine (white star) to grow and train against the white wall?  Your thoughts on this would be welcome.
Thanks for all your input and help.
Carol