Forum home
›
Tools and techniques
How many drainage holes in planter?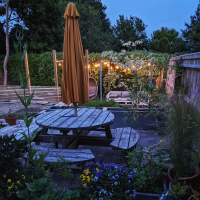 Latimer
Posts: 790
Hi all
I have these large metal planters, approx 1m x 1m x 0.5m high which have these two 15-20mm holes in the bottom for drainage (the red thing comes out). Is that sufficient or should I be drilling more in? I've tried with the drill bits I have but the metal is too strong so if I need more holes in going to need to get some special bits.
I'll be filling the bottom with polystyrene I have lying around.
Sorry for the pics being out of order, I'm on my phone 🙈