Forum home
›
Garden design
How much space for growing and propagating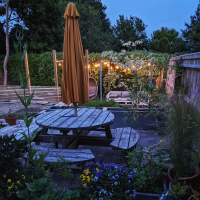 Latimer
Posts: 1,034
Hi all,

I've been reading more and more about how to grow my garden on a budget, and so much of that depends on saving seeds, taking cuttings and growing on plants in pots.

Roughly how much of your garden do you dedicate to propagating and growing? Is a greenhouse an essential item? What else are necessities? l was watching an episode of Carol Klein "Life in a cottage garden" and almost laughed out loud at her towers of plastic pots. Granted, this is her life and job but I still think I'd need a lot more than I've got!
I've no idea what I'm doing.