Forum home
›
Problem solving
How high to make trellis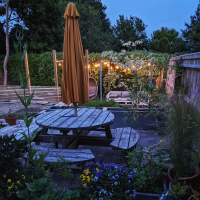 Latimer
Posts: 1,046
Hi all
I have this container 53cm diameter, 75cm deep into which I am looking to plant a Clematis and a rose. I already have a Comtesse du Buchard Clematis that's doing quite well in a small pot which is like to use. I haven't chosen a rose yet. The wall is South East facing.
Realistically how high will I be able to get containers plants up this wall. I'd like to train it across the top of the doors and windows if possible. Is that realistic? I don't want to make a trellis that is empty!
Thanks
I've no idea what I'm doing.