Forum home
›
Problem solving
Overfeeding container plants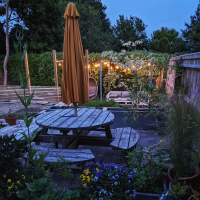 London_to_Latimer
Latimer, Buckinghamshire
Posts: 211
Hi all,

I've been slowly potting up containers over the last few months, stuff I inherited from my parents, supermarket impulse buys etc etc but my planting regime is inconsistent to say the least!

Some were in just compost, some in compost with grit and vermiculite, some with BFB added. Some are in pots from last year, and I've topped up the compost, some are as they were. And I couldn't tell you when they were done!

Is there going to be a problem if I give all of them a weekly seaweed feed? Or am I going to do no harm but just waste feed on some of them unnecessarily?

Thanks!