Forum home
›
Problem solving
Multiple plant issues 😫 please help(eucalyptus, olive tree and a plant I can't identify)
hannahkaty
Posts: 4
Hi,
First time poster - sorry if I'm going about this the wrong way!
so, I've recently moved into a flat with a garden and am having a few issues with some of the plants that my friends left behind when they moved abroad leaving me to tend to their south west facing garden with little shade 😬 I have very little experience of gardening and am worried I'm going to kill everything!
Firstly. I have three potted Eucalyptus trees. Two of them have almost totally turned orange. I repotted them hoping that would help. One is now beginning to sprout fresh green leaves - yay! (pictured)
so I think it is saved the other is still looking pretty dead.
My questions on these two eucalyptus are 
1- should I cut back the (I presume) dead branches on the one that is starting to grow again?
2 - the one that isn't growing again - do I just cut my losses? I'm pretty sure at this stage it's beyond help. 
I have another eucalyptus which I haven't repotted yet which is still mostly green but has a few leaves turning orange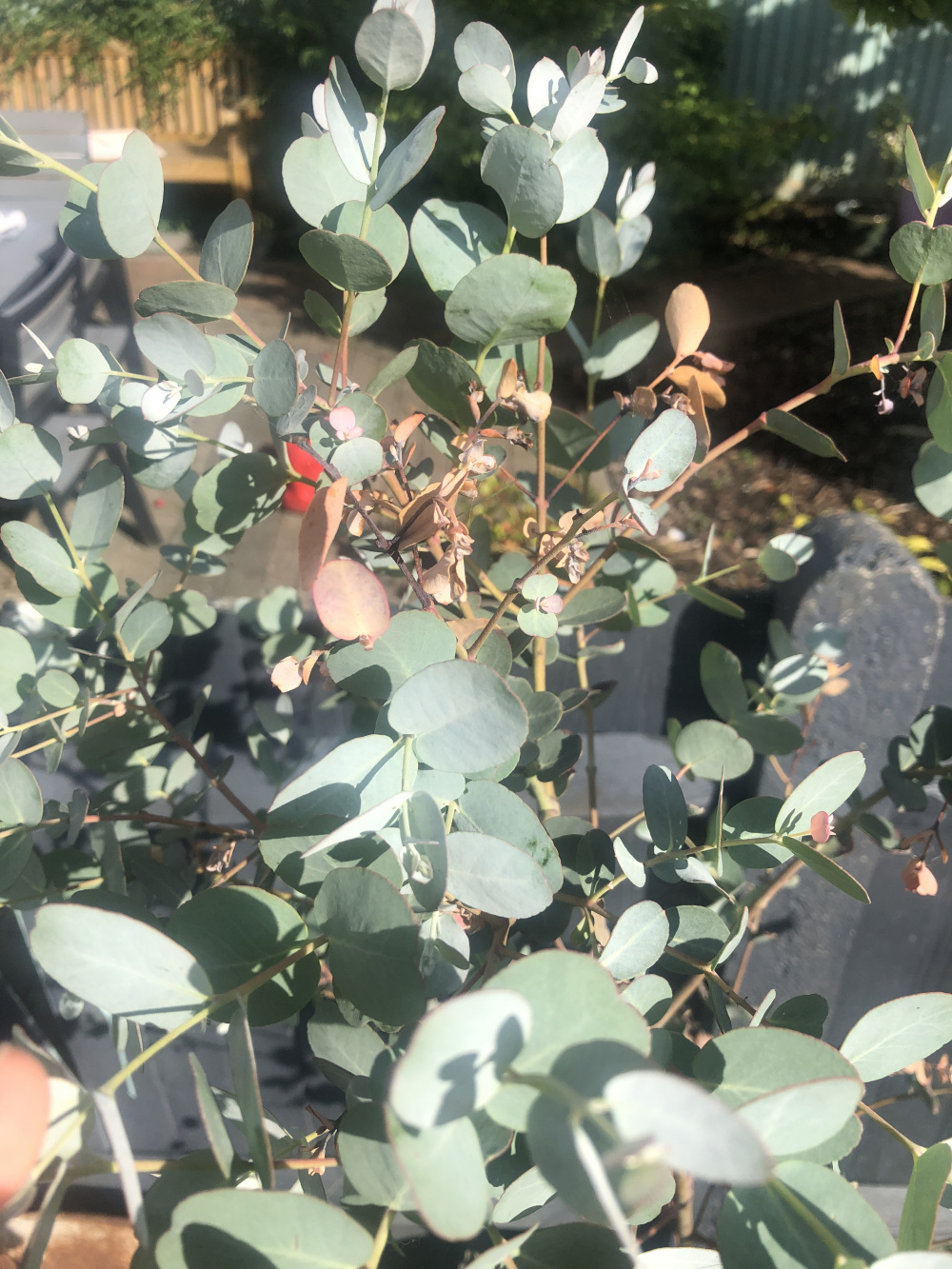 Will repotting save this fella? And again should I cut out any orange branches?
general care tips for eucalyptus also welcomed - have done some reading but am still a bit clueless.
Other issues I have:
Unsure of the name of this plant
What's happening to this lady who lives in a raised bed? Is it snails? What Can I do to stop it from being eaten?
Potted Olive tree!
This olive tree - also potentially in need of a repot? Just noticed a few leaves starting to go brown/ orange also. Any tips on care for this?
Thank you so much in advance for your help! I think I am keeping most of the plants they have alive and have revived a few so am not beyond help (thank god) but some things feel a bit beyond my skill level right now. 
Hannah